Ocean Isle Beach is very lucky to have 2 great Surf Camps owned and operated by great surfers with a lot of years of experience each.  You can't go wrong with either one so here are the two that we recommend!
Jace, owner of Lola's Olas surf camp in Ocean Isle Beach is a great camp that specializes in skim, surf and standup paddle lessons for all ages. They offer private and small group lessons year round.  Throughout the summer months they offer a "Surf & Skim Skool" for up to 10 participants at a time, three days each week.  They focus each lesson on helping the learner gain the necessary safety skills, build confidence, and most importantly, have fun!

Brothers Michael and Ben Powell have been surfing their entire lives and have built the Carolina School of Surf tailored for surfers ages 6-17 years old.  Students learn in a fun environment with very talented instructors.  If you're close to Ocean Isle Beach, NC, there's no better place for us to recommend you to than the Carolina School of Surf.
Weekly surf camps are held throughout:  May, June, July and early August on Ocean Isle Beach.  The Powell brothers will take you through a four day program where surfers are learning in the elements and on a board.  You're in for a treat and a lot of fun learning from the best.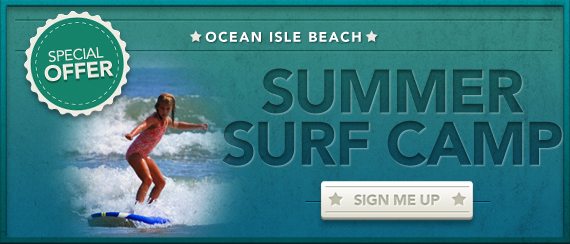 If you're looking for private lessons or group lessons, the Carolina School of Surf also offers a variety of options for you.  They are able to accommodate parties of 10 people or more and great at working with you 1 on 1.